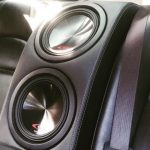 Valuable ideas to keep the bass in your car speakers upgraded
The stereo system in the car is basically for entertainment purposes whether a long drive or when you are stuck in traffic they come for your aid. In a brand-new car with a new stereo speaker system, the sound quality is unbelievable that even an audiophile could get easily convinced to assure them perfect. As time goes and when the speaker starts getting older than they need space for improvements especially in the bass sounds.
Bass is the low-frequency sound and in an old speaker system, it is hard to get them in clear quality. There are many ways to increase the bass on the car speakers and following them would give benefits.
Tips to increase bass in-car speakers:
To maintain better sound quality in-car speakers we need to upgrade and change much in-built equipment's and let's check on the ideas we have to follow.

New speakers – Replace the in-built speakers get them fixed with the new ones in your car speaker system. Match the new speaker unit with the new ones within your budget. If possible, adding a subwoofer is also a better choice.
Changing the in-dash – Changing the factory-made in-dash will be better to increase bass sounds. Upgrading in-dash to a smart one will result in betterment. Having them with USB channels and Bluetooth connection will give better sound quality.
Upgrading components – upgrading inner parts such as an amplifier, signal processors, and equalizers will help getting more bass in the car as they are the key components. These upgrades might be a bit expensive but they are worth it for a long time. As signal processors help with Bluetooth and listening to radio stations.

Quality music files – Using quality music files and folders helps increase the quality of sound. While connecting mobile audio files changing the settings will result in an increase of bass volumes. Using other audio files like pen drive, CD files are good.
Noise cancellation – To avoid external sound disturbances using soundproof materials in the car will add more value to it. The quieter the surrounding is the clearer quality the bass sounds. So, adding deadening soundproof surroundings will be a good choice even it is high-priced.
The above are only a few tips and if we could surf there are many technical tips and ideas that will be available. Experts will give us customized solutions based on our choice and the condition of our car speaker system.